Your confident guide to all the latest updates and announcements…
Thousands of people around the world tuned in this week for WebexOne, eager to hear about what's in store for hybrid work and how to deliver experiences that live up to—and exceed—demanding expectations. With so many new products and features announced across the entire portfolio, it may be hard to keep track. That's why Natilik is here to help with a rundown of all the exciting announcements made on the first day  of the virtual event!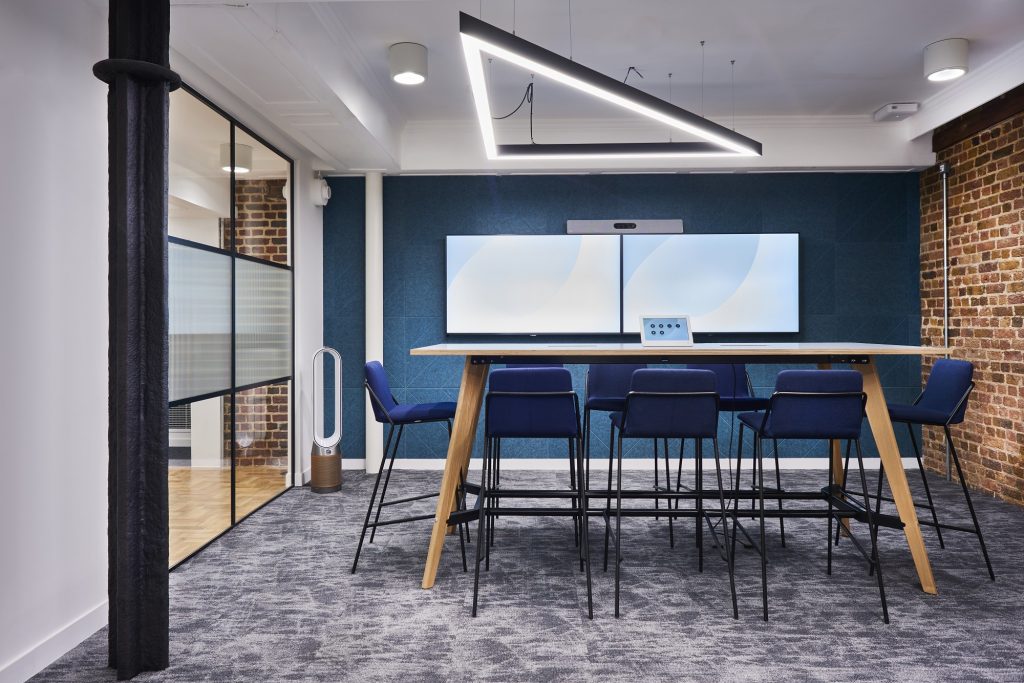 For intelligent, engaging and inclusive collaborative experiences.
On-the go
Cisco headset 720 series
The Cisco Headset 720 Series is an on-ear and wireless headset that has everything you need for productive audio collaboration. The lightweight design with two wearing styles provides all-day comfort paired with easy connectivity, 276° rotation boom arm with flip-to-mute, and the all-new one button to join for Webex and Microsoft Teams. Available today through Natilik!
Headset advancements
Brand new AI voice-activated microphone for Cisco headset cuts off noise entirely when someone is not speaking, removing all those unnecessary distractions whilst you're on the move.
Webex for cars
It's safety first with this announcement, bringing the Webex move-meeting-to-mobile feature to your car. Simply use your phone's camera to scan the QR code and transition your meeting from your computer or laptop to your mobile. Users can also safely join meetings, check their calendar, or listen to recordings while in their car by simply connecting iPhone to the vehicle using the Webex integration with CarPlay. But don't worry, video will be disabled to avoid distraction.
In the office
Cisco Room Kit EQ
Say goodbye to meeting fatigue and hello to inclusive collaboration. Designed for large meetings or educational spaces, the room kit EQ is a next-generation video bundle that seamlessly integrates with up to three external displays. Featuring the AI-powered Cisco Codec EQ, the intelligent Quad Camera video bar, an intuitive touch controller, and room peripheral options.
Cisco Spaces and Control Hub Integration
Provide your IT teams with the power of easier monitoring and feed 3D Rich Maps with metrics such as meeting space occupancy, environmental conditions, and more. Reduce the time your IT teams spend configuring devices by extracting sensor data to enable intelligent workplace experiences and operations.
Hot desking
The Cisco Video Phone 8875 we all know and love has been upgraded with next generation Webex Calling features that are ideal for return-to-office hot desking environments as you look to reduce your physical desk space. Users can easily personalise the 8875 with their phone number and extension, call history, and voicemail by simply scanning a QR code on their mobile phone.
In-Meeting Enhancements
Attendees of webinars can now use their Webex devices to join the event.
Users joining a Webex meeting from a device that is running on RoomOS 11 now have a way of keeping track of the conversation going on in the meeting chat.
New meeting layouts let users see 19 video streams along with shared content in a Webex Meeting, making room for more remote participants, while giving both the speaker and content a prominent view.
Cisco Devices for Microsoft Teams Rooms
You asked and they have delivered! Cisco's market leading, intelligent devices will soon natively run Microsoft Teams Rooms. Bringing their world-class AI capabilities and inclusive features like audio intelligence with background noise removal, people focus, analytics, and management to any workspace. This software upgrade for the Room Bar, Room Kit Pro and Board Pro 55/57 devices will be available Q1 of 2023, with the Room Kit EQ, Desk Pro and Room Navigator update to follow mid-2023.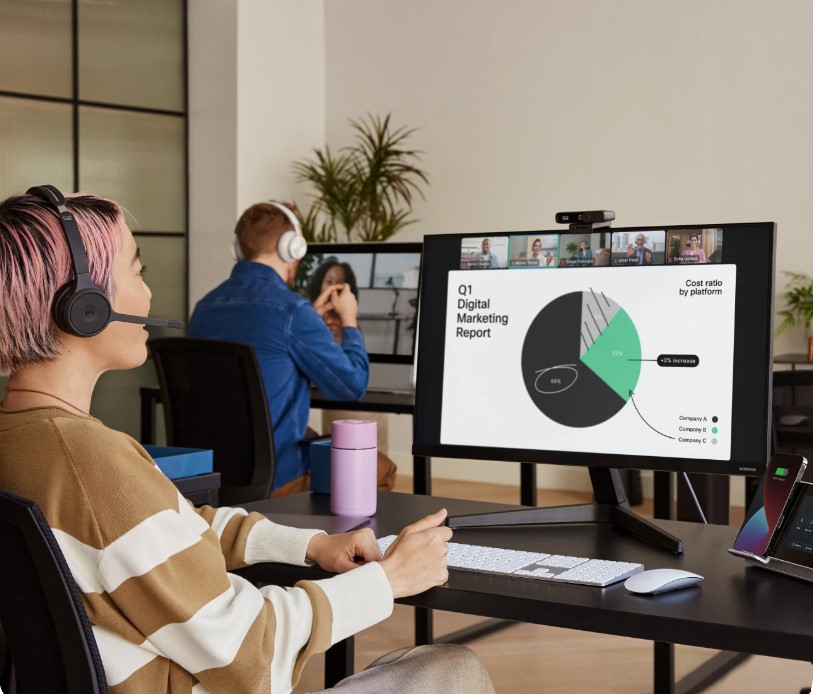 For collaboration tools that adapt to empower your best work.
Meetings and Messaging
Mobile Camera Share
Now you can use your mobile to share high-quality live feed directly to your meeting participants. Featuring the ability to annotate, zoom in, zoom out, and collaborate on a live feed rather than just on static content.
Recording Enhancements
Change recording layouts dynamically at any time, use chapters to quickly navigate and time block recordings, and attach speaker names to every dialogue in a transcript.
Scalable Grid Layout
Users can now choose the most suitable video view layout with options that include the ability to select up to 81 video views per grid. Now that's a big meeting!
Grouping of Spaces
Categorise conversations and team spaces based on groups that are relevant to you. With a few simple clicks, you can consolidate similar spaces into groups and keep your most important conversations in one place.
Public Spaces ​
Public spaces bring distributed teams together by allowing anyone to find, create, and join spaces around topics and hobbies that are important to them, helping to create a stronger sense of community.
Surfacing Time Zones & Work Locations
See the local time zone of co-workers directly in their contact cards for easier collaboration with your global teams. You can now also update your work location in the Webex App, such as 'in the office' or 'at home', and make it instantly accessible to everyone.
Calling
Group Call Management
Take advantage of more advanced features such as skills-based routing, caller requested callback, and performance analytics reporting—all included at no extra charge for Webex Calling Professional subscribers.
Webex Calling Integration with Microsoft Teams
Webex Calling is now available directly through the Microsoft Teams interface, eliminating the need for you to switch between multiple applications and providing a more complete experience that includes call history, presence, and mid-call controls all from one application.
Webex Calling for Chrome
Webex Calling for Chrome enables you to receive phone calls directly from the Google Chrome browser without the need of a separate application. Now you will have access to enterprise calling features like directory search, presence, mid-call features, and voicemail access.
Site Survivability
Network issues are unpredictable and can arise at any time. These outages almost always lead to a greater need for calling—to share details, check on status, and ensure the safety of people. Webex Calling Site Survivability is an insurance policy against network outages for sites—all managed from Control Hub.
Enhanced Shared Line and Multi-Line Support
Multi-line support for multi-tenant Webex Calling enables lines (DIDs, extensions, phone numbers) to be configured for one of your users, without the need of additional calling entitlements.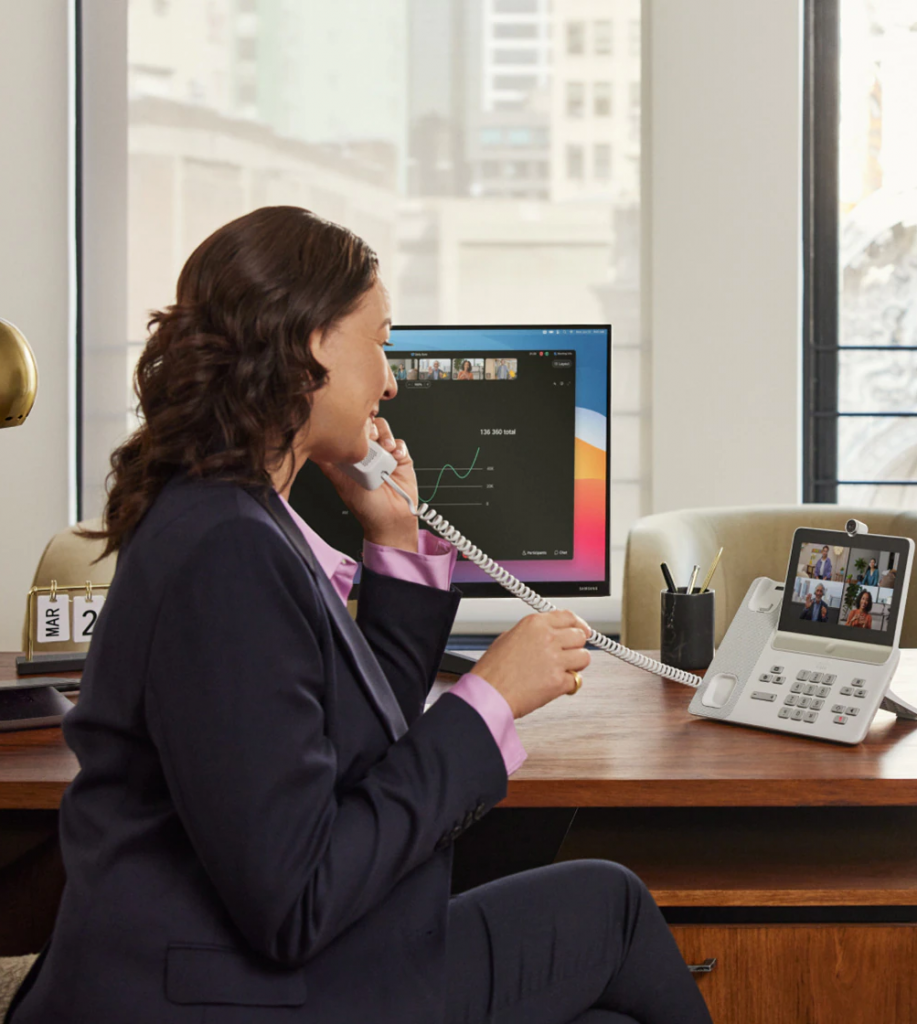 For secure global collaboration
Control Hub- Your newest business coach
Control Hub can now provide you with step-by-step guidance encouraging administrators to set, track, and achieve collaboration objectives.
Security: Audio Watermarking
With more people than ever remotely dispersed and on-the-go, your confidential meeting and intellectual property goes beyond the four walls of your office. The all-new audio watermarking feature uniquely tags audio streams to every participant in your meeting with a marker that cannot be heard by the human ear. So, if a member of your team was recording a meeting where confidential information is discussed, you can now trace that recording back to the individual regardless of how the audio was shared.
Security: Duo is now available as part of the Extended Security Pack
You can now consume Duo Multi-factor Authentication via the Extended Security Pack bundle, enabling single sign-on (SSO), multi-factor authentication and passwordless authentication for Webex.